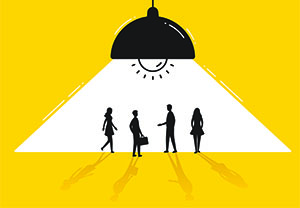 Subject Matter Experts (SME) don't have to be Fortune 500 billionaires or Ivy League PhDs. They are often people you interact with every day—the knowledgeable and experienced staff at your own company.
Do you have a vice president with great insights on reverse logistics? Does your CFO closely follow forecasts for global shipping rates? Do you have a supervisor on the floor who can share workplace safety tips?
Build your credibility with the media by cultivating internal experts and making them available for non-promotional interviews. Editorial departments are lean nowadays and providing this kind of high-value resource helps them do their job. They are looking for new voices. Don't underestimate how newsworthy your business and your people can be to the media covering transportation, logistics, and the supply chain.
Your experts are great sources for articles, case studies, podcasts, news briefs, and the next new type of content we don't even know about yet. Get to know your internal experts and identify those who can speak confidently.
When you've assembled a shortlist, take time to develop concise, written biographical information including areas of expertise for each one. Prepare them on how to talk to the media in an informative way that emphasizes solutions over problems. Coach them on what they are allowed to share, and what might be proprietary.
Once you have a knowledge bank for your company, start pitching to the trade media. Find content that is of value to those editors. You want to demonstrate that your people can share solutions for industry issues and challenges. And, whenever you have something that's topical, get it out there quickly.
Check the editorial calendars in publications that cover your segment of the supply chain industry. Look for upcoming articles two to three months in advance—then email the editor with information about how your SME can address the topic in an educational way.
The editors do not want to give your business free advertising, but they are interested in ways you have solved other people's challenges. It's especially valuable—and makes an article more interesting—if you can include your customers in the story to show how you worked together toward a solution. Be sure to get that customer's approval first. 
Think about ways to repurpose content from existing collateral such as brochures, blogs, websites, white papers, and case studies. Many of these will match up with the editorial calendars throughout the year.
Keep on top of your SME list and update it frequently. Have head shot photos handy for each individual.
You may have to educate your senior managers on the value of the SME approach, and why the expert doesn't always have to be the company president. Diverse voices can create a wealth of earned media that builds awareness and attracts new clients for your company.
If you want to find out more about creating an SME program, reach out to us at James Street.