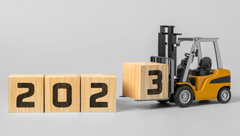 Happy New Year! No doubt you are launching your 2023 marketing plan and are keeping your eye on trends. Meltwater, which has been doing media monitoring and analytics for 20-plus years, says the keyword for marketers this year may be "adapt."
Brand identity is still a top priority
Even in niche marketing channels such as logistics and supply chain, buyers have thousands of choices for goods and services. Brand identity should be a top priority—when they know and trust you, they buy from you.
Educating prospective customers about your company starts by focusing on a target audience. Make your brand highly visible and easy to find with media placements and ad campaigns in the right publications and platforms. 
"...brands that cast too wide of a marketing net are bound to get lost and forgotten," says Meltwater.
Is timing right to roll out new channels?
The TikTok app has been attracting more users. Ad Week calls it the "go-to search engine for Gen Z." Advertisers are tapping into to it more frequently, but 2023 could see more prohibitions due to user privacy issues. Several colleges have banned TikTok from their IT networks. The European Union is also warning that the social media app must meet new rules for online platforms set to take effect later this year.
Social commerce is seeing ups and downs. It is a variation of e-commerce to generate sales directly from social media. These social sites—often separate from brand websites—are one-stop stores for researching and buying. While popular in other countries, U.S. customers seem skeptical about trusting these sites and their connected apps and features.
According to Meltwater, "unexpected setbacks, such as the shutdown of Facebook live shopping in October, show that marketers still need to stay agile when it comes to investing in new channels."
Use your data wisely
So much data and analytics is available to marketers these days that it can paralyze their ability to make good decisions in a timely manner. 
Artificial Intelligence (AI)—such as Google's Automated Insights—is making advances in this area by finding trends in your data that your human brain might not detect. Microsoft offers a similar feature in Excel that can quickly sort through large data dumps to find important patterns.
Investing in video
Short-form videos such as Facebook and Instagram Reels and YouTube Shorts are extremely popular. All types of businesses are finding ways to use them not only to hook sales and prospective customers, but also for employee recruitment. 
"Marketing teams should be incorporating more video into their content and social media strategies for 2023, experimenting with different video lengths and several of the new features," says Meltwater.
Cookies are crumbling
Google has said it is doing away with third-party cookies for customer data tracking some time in 2024. Meltwater says marketing teams may need a new plan to "measure the success of their online advertising campaigns, email marketing, brand awareness, and other key marketing initiatives."
At James Street, we like talking about trends, but we're even more interested in helping you find marketing solutions. Don't hesitate to reach out.