Bill Fahrenwald
Partner
bill@jamesstreet.net
Bill Fahrenwald is a supply chain, transportation, and logistics marketing expert. He is a well-known author, speaker, and communications consultant.
Bill's insights are the result of his experience as rail industry reporter, transportation publication editor, plus founding member and past president of the Transportation Marketing and Sales Association (TMSA).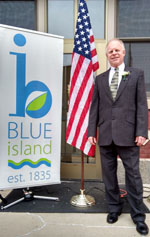 He has planned and hosted informative webinars, media panels, and logistics trade presentations. Bill is certified in Inbound Marketing with HubSpot, and is highly recommended by peers and clients for his media relations and strategic communications skills.
Bill's greatest asset may be his ability to listen to an avalanche of information, and then quickly find the key pieces to craft an effective message and strategy for each individual client. As an alderman for our City of Blue Island, he knows how to bring people out of their silos to achieve results that cut through the red tape.

Martha Anderson
Partner
martha@jamesstreet.net
Martha Anderson heads James Street's branding and creative initiatives. Bridging strategy and tactics, she collaborates with our customers to plan their programs, track  their progress and bring them to a fruitful, measurable conclusion.
She is a natural born editor; a wordsmith with a very strong visual sense. "It's a curse," she says. "I'm constantly editing billboards, websites and TV ads." Her basic rule about copywriting: Avoid clichés like the plague.
Martha is James Street's manager of our ongoing pro bono media relations programs for Midwest Association of Rail Shippers (MARS) and volunteers for other professional and community organizations.
...and the Associates
James Street is a team of seasoned professionals who work with Bill and Martha to bring customers the best writing, graphic design, photography, video, online strategy, and anything needed to create successful marketing plans that get results.