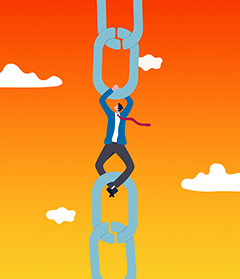 Are responses to your marketing efforts slowing a bit? Has your growth from word-of-mouth started to plateau? Is there something in your plan that needs fixing, mending, linking, or connecting?
It may be time to see a specialist that understands your particular field of expertise.
General-interest marketing agencies probably don't speak the language specific to your industry. Marketing firms that understand the bits, bytes, KPIs, and ETAs that make our supply chain world move are rare, but they are out there.
Successful supply chain marketing requires deep knowledge of this dynamic industry, and a creative multi-channel strategy. Plus, it needs a marketing specialist that understands your world to reach the prospective customers you want to influence. 
I know a guy…
Recommendations from people in your circle of influence can be helpful, but make sure to vet each reference. If your company is in logistics and transportation, your marketing needs to be in the hands of people who know your world. 
Find someone who helps you communicate with your customers in their language and to their needs. Your specialized agency should be able to employ the appropriate channels—web-based, social media, industry events and conferences, and media relations—to reach the decision makers.
At James Street, we understand your industry, the people that buy your services, and the fast-paced competition you face each day. Our efficient shop employs an effective system; and we know your market inside and out. 
Combine all that with our dedication to your brand, and you have a formula for success.
What works for you?
We're happy to step in with just as much help as your company needs. You might be ready to update your marketing program. Sometimes, a helping hand when you're short of time or people with projects will do the trick.
From a per-project basis to building you a comprehensive plan, take advantage of our experience to move your marketing programs to the next level.
Reach out to Bill or Martha to find the right solution to your marketing challenges.