James Street just finished hosting a three-session webinar on Earned Media Strategy for the Transportation Marketing & Sales Association (TMSA). It was a great opportunity to share ideas for creating and pitching authentic content. It was also fun to talk—about anything—to our marketing peers again.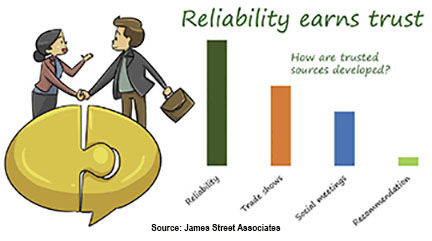 As we wrapped up the last session, we all looked at each other and had a collective "Now what?" moment. We've got these great ideas for articles to pitch to editors, but how do we do it best when everyone's email inboxes are overflowing and in-person gatherings are still not happening?
In this case, start with the long-term outlook. One of the best places to get to know staff from the trade media is at the larger industry shows. Looking at the schedule for fall 2021, we see many organizations—for example CSCMP, Railway Exchange, IANA—are currently planning for in-person shows. 
Editors and reporters will be a hot commodity at these meetings, so try to book a meet-up at the show at least a month before. If you can't do that, then be sure to stop by the publication's booth at the show just to chat and let them put a face to your company.
The people who participated in our recent earned media sessions report that they get the best return on their pitches when they already have an established relationship with the publication staff. If it's been a while since you spoke to your contacts, a trade show would be a great place to reconnect.
Also, check out the schedule for smaller shows in vertical markets where you do business. Many of the publications covering these verticals write about products, and find it new and interesting to talk to a company that handles the supply chain logistics for those products.
As you wait for more opportunities for face-to-face discussions, keep pitching—and don't forget your best practices for media relationships:
•    Email pitches that are short, factual, and non-promotional;
•    Understand what topics the publication covers and who its readers are;
•    Highlight a solution that others can use; and
•    Keep your promises about deadlines.
During the pandemic, professional relationships have gotten a little stale. Nothing replaces the occasional in-person meeting. So, start now to find those opportunities to meet again, and keep polishing your media relations strategy while you wait.