Who doesn't love the praise and admiration of their peers? We definitely do, and we want to share that once again James Street Associates has won honors from the Transportation Marketing & Sales Association (TMSA).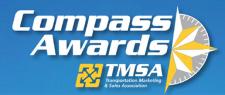 Every year, TMSA hosts the Compass Award competition to find the best marketing campaigns in transportation. These aren't easy to win. TMSA judges are looking for campaigns that demonstrate effective execution and measurable business results.
We are proud to have won a 2020 Compass Award of Merit for this video project.
To learn more about the Compass Awards click here. And, to find out how James Street can accelerate your brand, contact Bill Fahrenwald and Martha Anderson.