We operate in a visual world. On Instagram alone, companies and individuals share nearly 100 million pictures each day. How visible is your business?
Cultivating a company photo library can keep you from scrambling for images when it's time to showcase your capabilities on the website, in presentations, reports, and for social and print media. A central file of high-quality photos will support marketing outreach, employee communications, hiring recruitment, new client leads, and brand awareness. And photos of your business in action will tell your story better than any generic stock photos can.
What images should you include in your library? Review your annual reports, corporate presentations, advertising, marketing materials, and news releases. What kind of photos were used—and what images do you wished you had used? Especially take note any stock images you had to pay for.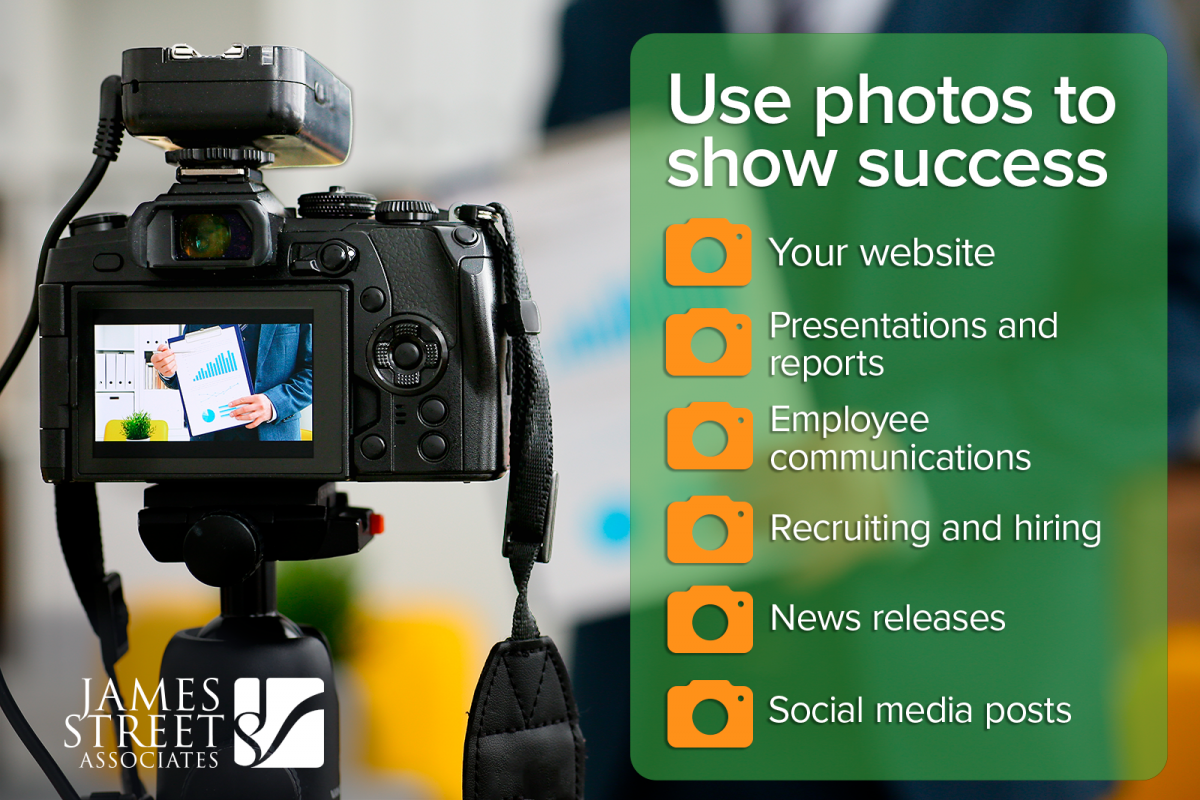 Image categories to include in your library:
•    Headshots of your executives and subject matter experts;
•    Your facilities and offices;
•    Employees in action using all appropriate safety gear and protocols; and
•    Your associates at work (get model release forms!).
Building a photo library may seem like a daunting task, but it becomes easier with a system in place. Regularly encourage employees to take pictures of events, such as a new facility opening. Provide guidelines to keep the images consistent with your brand. Cell phone photos are okay, if they are sharp with good lighting and can be saved as large, high-resolution files.
While crowdsourcing might seem attractive from a cost standpoint, hiring a professional will give your company a truly polished appearance. Aside from delivering higher technical quality, professionals are skilled in crafting images that can be used in a variety of ways. 
For example, they may give you versions of photos with space in the composition to overlay text, something an amateur might not consider. To keep costs down, organize a shot list to optimize the photographer's time and output.
However you build your library, it's important to keep the highest-resolution photos in a central location where they can be easily accessed by marketing staff and quickly sent to people both inside and outside your company. A shared folder on your network or a cloud service can work but create topical subfolders to sort your collection. Avoid the temptation to store things in email inboxes, which limits access and makes it difficult to see what you have.
Also store your reproduction licenses and permissions with the image files. This includes releases for any employees that appear in the photos.
Finally, make sure you have a photo library maintenance plan. Regularly review and archive photos that are no longer representative of your services, show employees who have left the company, or have otherwise become outdated. But, be sure to keep some older photos for your company's historical records.
Need some help coming up with ideas to show off your company? Email Bill or Martha to set up a time to talk.