James Street Associates Wins TMSA Honors
JACKSONSVILLE, FL—June 12, 2019 (James Media Services)—James Street Associates was honored this week with a Compass Award from the Transportation Marketing & Sales Association (TMSA).
The award was for the creation and production of two videos that highlight industrial development opportunities along two of Anacostia Rail Holdings' short line railroads. [see video highlights]
The Compass Awards recognize marketing and sales best practices that demonstrate effective execution and measurable business results for transportation and logistics companies.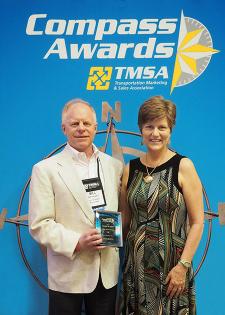 "As part of TMSA's mission, the Compass Awards Program plays an important role in raising the standard of marketing innovation and sales performance in the transportation and logistics industry," said Angie Davids, 2019 chairperson of TMSA Recognition Committee and director at YRC Worldwide. "This well-respected awards program recognizes the best and most relevant marketing and sales initiatives in our industry."
James Street Associates is based in Blue Island, Illinois. Executive directors Bill Fahrenwald and Martha Anderson accepted the award at a June 10 banquet during the TMSA annual conference near Jacksonville, Florida.
"The TMSA Compass Awards Program provides transportation and logistics companies with the opportunity to showcase their best work in marketing and communication strategies and sales performance," said Brian Everett, CEO of TMSA. "In addition, recipients of this award earn recognition from peers while they benchmark work against others in the industry." 
About the Transportation Marketing & Sales Association

The Transportation Marketing & Sales Association (TMSA) helps its members and their companies to make sales, marketing and communications strategies more effective, productive, and profitable. The only professional association of its kind serving the transportation and logistics industry, TMSA delivers value to thousands of members through knowledge, connections, recognition and solutions. For more information, visit www.TMSAtoday.org. 
About James Street Associates
James Street Associates delivers marketing communications in the business-to-business arena, specifically the logistics and supply chain sectors. James Street customers value marketing, media relations, and content development as a profitable investment, and the agency excels in creating innovative solutions to reach target audiences. For more information, visit www.jamesstreet.net.