Traffic Club of Chicago Explores Relationships Between Shippers and Logistic Service Providers
Program Features Industry Insiders Robert Voltmann & Evan Armstrong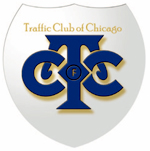 CHICAGO—August 6, 2014 (James Street Media Services)—The next Traffic Club of Chicago Executive Series Briefing on Thursday, September 11 will examine the complex relationships between third-party logistics (3PLs) companies and their customers.
The half-day program will be held in Schaumburg, IL, and features speakers Robert Voltmann and Evan Armstrong, along with a panel of 3PL representatives and their customers.
Voltmann is president and CEO of Transportation Intermediaries Association (TIA). He is the former director of policy of the National Industrial Transportation League (NITL), and was a presidential appointee to the U.S. Interstate Commerce Commission from 1989 to 1992.
Armstrong is president of Armstrong & Associates, Inc., providing consulting services to supply chain participants in logistics outsourcing, mergers and acquisitions, market analysis and benchmarking, and supply chain systems evaluation and selection. His company publishes the well-respected Who's Who in Logistics annual guide of third-party logistics providers.
"Shippers, carriers, distributors, and those managing the final destination of product are constantly redefining their roles in relation to one another," said Skip Marshall, chair of the Traffic Club's Education Committee. "This presentation will examine how the relationships between 3PLs and their supply chain partners have evolved, and how the changes have affected the industry as a whole."
When:
Thursday, September 11, 2014
8:00 a.m.—Noon
Program includes:
•    Networking and continental breakfast
•    Opening keynote from Robert Voltmann, president, Transportation Intermediaries Association
•    Closing presentation by Evan Armstrong, president, Armstrong & Associates, Inc.
•    Panel session of industry professionals representing both shippers and 3PLs
Where:
Innovation Center on the Motorola Campus 
1295 E. Algonquin Rd.
Schaumburg, IL 60196
 
Tickets:
Members: $60
Member guests (up to two): $55
Non-member: $75
(No cancellations after Monday, September 8, 2014)
Reservations are required, and may be made in the following ways:
• Online at www.traffic-club.org
• Phone: 630-529-1333 Traffic Club office
• Email: staff@trfclub-chicago.org
About The Traffic Club of Chicago
The Traffic Club of Chicago, founded in 1907, is one of the nation's oldest and finest transportation associations. The club is dedicated to maintaining the highest standards of the transportation and logistics industry, keeping its members abreast of industry happenings, while at the same time assuming a responsible role in civic, cultural and charitable activities in the Chicago area. Members enjoy many benefits, including access to private dining and country clubs around the Chicago area, as well as across the country and overseas. An annual schedule of programs and events provides opportunities to network with industry professionals. A scholarship program supports the organization's philosophy of direction and guidance. Headquartered in Bloomingdale, Illinois, the club publishes a monthly newsletter, "The Waybill." More information can be found at www.traffic-club.org and www.facebook.com/trafficclub.ofchicago.
MEDIA CONTACT
Bill Fahrenwald
James Street Associates
bfahrenwald@jamesstreetassoc.com
708-371-0110 Ext. 1-#