Railinc Names Joan Smemoe Chief Information Officer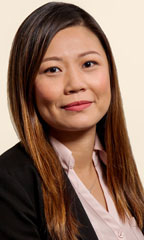 CARY, N.C.—May 29, 2018 (James Street Media Services)—Railinc Corp. has promoted Joan Smemoe to the positions of Chief Information Officer (CIO) and Vice President of Information Technology, effective June 11.
Smemoe will be responsible for providing the vision and leadership for Railinc's data, product development, and information systems platforms. Smemoe—who currently serves on the executive management team—will report to Allen West, president and CEO, in her new position.
"I'm honored to lead our team of highly skilled technologists," Smemoe said. "At Railinc, we do important, meaningful work in service to the freight rail industry. With powerful, new technological innovations at our disposal, it's an exciting time to be in a role like this."
Smemoe joined Railinc in 2006 as a senior software engineer. She has served as a project development manager, senior manager of application engineering, plus she served as director of application engineering and director of Railinc's project management office. 
During her tenure, Smemoe provided technology leadership for important product initiatives, including the AskRail mobile application, the Gateway Operations Services program, and the Component Registry.
"Strong leadership in the CIO role is essential to our ability to serve the freight rail industry and to our success as a technology company," West said. "For more than a decade, Joan has helped to shape Railinc technologies that are critical to daily freight rail operations. We're fortunate to have a leader with her technology and industry expertise and deep knowledge of our products become CIO."
Prior to joining Railinc, Smemoe worked as a senior Java developer at Shelter Mutual Insurance Co. She holds bachelor's and master's degrees in computer science from the University of Missouri-Columbia, and was named a 2018 Rising Star by Progressive Railroading magazine.
About Railinc
Railinc is the railroad industry's innovative and reliable resource for rail data, IT and information services. The company deploys data that helps railroads, rail equipment owners, and other industry participants manage their businesses more effectively and efficiently. Railinc is the largest single source of real-time, accurate interline rail data for the North American railroad system. Located in Cary, N.C., Railinc is a wholly-owned subsidiary of the Association of American Railroads. For more information, please visit www.railinc.com.
Media contact:

Steve Hinkson

Director of Corporate Communications

Railinc Corp.

p: 919-651-5193

e: steve.hinkson@railinc.com
Stay in touch with Railinc

Website • Twitter • LinkedIn • YouTube • 
Instagram