Railinc's West Elected Chair of NC Technology Association
CARY, NC—February 5, 2013 (James Street Media Services)—Railinc President and CEO Allen West has been elected 2013 chair of the North Carolina Technology Association (NCTA), the statewide membership association for the technology sector. West, who previously served as vice chair, will lead the organization's board of technology executives and provide guidance to NCTA staff.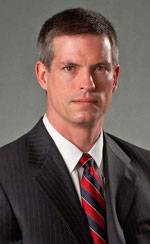 "NCTA brings together the best and brightest of North Carolina's technology sector," West said. "Railinc's participation in NCTA has raised our profile throughout the state, giving us the chance to build relationships with other innovative technology companies and helping us to connect with high-quality job candidates. I'm honored to help lead NCTA in 2013."
West joined Railinc in 1999, and was named CEO and president in 2006. Under his leadership, Railinc has been recognized as an information technology leader and as a "best place to work." Railinc won the Industry Driven Technology Company award at the 2009 NCTA 21 Awards, and has been a finalist in the past two years for the Industry Driven Technology Company and the Customer Service Company awards. West has 25 years of experience in information technology and business management with leading companies in the transportation sector, including Sea-Land Service Inc., Tenneco Inc., and Norfolk Southern Corp.
"Allen's leadership has helped establish Railinc as a top technology company in North Carolina and in the freight rail logistics business," said Brooks Raiford, president and CEO of NCTA. "I look forward to partnering with him, as we work to position North Carolina's technology sector to meet the challenges and realize the opportunities ahead."
About the North Carolina Technology Association
The North Carolina Technology Association's mission is Making North Carolina Number One in Technology and Technology Number One in North Carolina. The organization does this through three main focus areas: executive engagement, public affairs, and knowledge work force. For more information, please visit the NCTA website at www.nctechnology.org.
About Railinc

Railinc is the railroad industry's innovative and reliable resource for rail data, IT and information services. The company deploys data that helps railroads, rail equipment owners and other industry participants manage their businesses more effectively and efficiently. Railinc is the largest single source of real-time, accurate interline rail data for the North American railroad system. Located in Cary, N.C., Railinc is a wholly-owned subsidiary of the Association of American Railroads. For more information, please visit www.railinc.com.
Contact
Patrick O'Neil
Director of Corporate Communications
Railinc Corp.
p: (919) 651-5193
e: patrick.oneil@railinc.com