Pottery Boys Clay Studios Opens the Doors for Demos, Displays, and Community Fundraiser on August 24
BLUE ISLAND, IL—August 7, 2013 (James Street Media Services)—Pottery Boys Clay Studios of Blue Island (and Palm Harbor, Florida) is hosting its annual Open House on Saturday, August 24. The open house will feature pottery-making demonstrations, a gallery filled with new creations, and a special fundraiser for local citizens with disabilities.
The studio and gallery is located at 13201 Western Ave., Blue Island—north of the Cal-Sag Channel and under the Western Avenue Bridge.
The event begins at noon with demonstrations conducted by potter Glenn Woods continuing to 4 p.m. The gallery of finished work will be open from 5–9 p.m., and light snacks and beverages will be served.
New this year, the Pottery Boys will be taking donations for Blue Cap all day and evening. Blue Cap is a local organization that offers much needed services for citizens with developmental disabilities. More information about Blue Cap is available at: www.blue-cap.org.  
"Those who donate will be entered into a drawing to win one of three pieces of pottery—a tall vase, a large crystalline platter, or a cup and saucer," said Woods. "The drawing will be held at 9 p.m. You do not have to be present to win, but it would certainly make it more fun!"
The donation and drawing is an extension of the Pottery Boys partnership with Blue Cap. Over the past two years, Woods and partner Keith Herbrand have taken materials to the Blue Cap facility where they help the clients served there create customized pottery items. This year, items produced at Blue Cap will be featured in an exhibition at the main branch of Northern Trust Bank in Chicago to raise awareness and increase support for the agency's programs.
In addition to the August 24 open house, the Pottery Boys gallery is open Monday through Thursday from 9 a.m. to 7 p.m. There are also items for sale at CARR home-garden-holiday, 2357 York St., Blue Island. And, the Pottery Boys work can be seen at many of the summer and fall art fairs in the region, including:
September 1–2: Lake Forest Art Fair, IL
September 7: Penrod Art Fair, Indianapolis, IN
September 14–15: Lakeview Art Fair, Chicago, IL
September 21–22: Park Forest Art Fair, IL
For more information and schedule updates, visit the Pottery Boys website at: www.PotteryBoys.com.
MEDIA CONTACT
Glenn Woods & Keith Herbrand, owners
Pottery Boys
727-504-6200
potteryboys@earthlink.net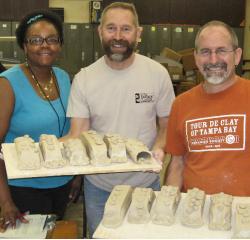 From left: Blue Cap Program Director Carla Harris with Glenn Woods and Keith Herbrand of Pottery Boys

holding some of the items created by Blue Cap clients. These wall vases will be fired and glazed by Pottery Boys before going on display at Northern Trust Bank in downtown Chicago.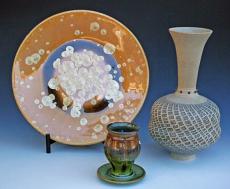 Items donated by Pottery Boys for the August 24 drawing to benefit Blue Cap include a tall vase, large crystalline platter, and cup and saucer.