Pottery Boys Clay Studios Opens the Doors for Demos, Displays by Local Artists on Saturday August 17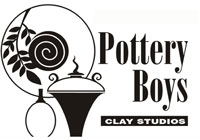 BLUE ISLAND, IL—August 9, 2019 (James Street Media Services)—Pottery Boys Clay Studios of Blue Island is hosting its annual Open House on Saturday, August 17.
The open house will feature pottery-making demonstrations and an impressive array of work from 11 local artists:
Glenn Woods and Keith Herbrand – Crystalline Glazed Pottery & Clay Jewelry
Paulette Stobinske –  Paintings and Drawings
Mark Vancura – Mosaics
John Brudeck – Photography
John Giemazick – 2-D Artist
Diana GodboutvPainting
Brian Garay – Oil Painting
Robin Rios – 2-D Artist
Charles Moesch – Painting
Bridget Scales-Fennessy – Painting and Ceramics
Chuck Michaels – Painting
All artists will be present to discuss their work, which will be offered for sale.
The gallery opening is co-sponsored by the Pottery Boys Clay Studios and the Blue Island Arts Alliance. Representatives of the Alliance will be available with information about its mission to bring local artists and local art patrons together to help organize, plan, and execute events that celebrate the work and performances of local artists.
Event Schedule    
Demonstrations conducted by potter Glenn Woods: Noon to 5 p.m.
Gallery hours: Noon to 9 p.m.
Formal opening 5 p.m.
Location              
The studio and gallery are located at 13201 Western Ave., Blue Island
(North of the Cal-Sag Channel at the foot of the Western Avenue Bridge.)
Website
Visit the Pottery Boys at: www.PotteryBoys.com
Media Contact
Glenn Woods & Keith Herbrand, Pottery Boys Clay Studios
727-504-6200 or potteryboys@earthlink.net
Photos available upon request