North American Rail Shippers Tackle Critical Issues at Upcoming Annual Meeting
NAFTA, Technology, and Infrastructure on Agenda as Rail Shippers Meet May 16–18 in Chicago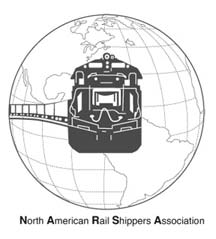 CHICAGO—March 14, 2018 (James Street Media Services)—The North American Rail Shippers Association (NARS) will be discussing the critical issues currently facing the freight rail industry at its annual meeting May 16–18, 2018 in Chicago.
"The challenges facing rail shippers and service providers are numerous and complex," said NARS President Dana Burleigh. "We have concerns relative to infrastructure needs, NAFTA modifications, adapting and adopting technology, and the economic outlook. However, this uncertainty also presents us with significant opportunities to work together to initiate change and improve the industry." 


The agenda is still being finalized for the two-day meeting, but highlights include:
•    A keynote presentation from Association of American Railroads Chairman James Squires, who is also president and CEO of Norfolk Southern Railroad; 
•    A panel discussion on NAFTA with Martin Caro, Trade & Investment Commissioner, ProMexico Chicago, and John Cruickshank, Consul General, Consulate General of Canada; 
•    Congressional viewpoints from invited members of the U.S. Senate and House of Representatives; 
•    Railroads and Technology panel featuring John Scheib, EVP Law and Administration and Chief Legal Officer, Norfolk Southern Railroad; and
•    A shipper success story from General Motors.
The program will also include presentations on infrastructure needs, the shortline perspective, the railcar outlook, and the regulatory landscape. 

The NARS meeting and annual scholarship golf tournament is being held in conjunction with two events sponsored by the Traffic Club of Chicago—a dinner and a golf outing. The dinner on May 17 features guest speaker Justice Alan Page, former member of the Minnesota Supreme Court and also a member of the National Football League Hall of Fame. 
The joint golf outing will be held May 16 at Cog Hill Country Club in Lemont, IL. Registration for the NARS and Traffic Club events are separate.


 
NARS Annual Meeting
Date

Wednesday–Friday, May 16–18, 2018
Location
Hyatt McCormick Place
2233 S. Martin Luther King Dr., Chicago, IL
(312) 567-1234
Cost

$495 for NARS meeting registration

Registration
Advance reservations are required for the NARS conference and golf outing. For information or to register:
• Online conference information and registration
• Email: nars@railshippers.com

• Phone: (331) 643-3369

About The North American Rail Shippers Association
The North American Rail Shippers Association (NARS) is comprised of a network of five regional North American associations including the Pacific Northwest Association of Rail Shippers, the Midwest Association of Rail Shippers, the Southwest Association of Rail Shippers, the Northeast Association of Rail Shippers, and the Southeast Association of Rail Shippers. Headquartered in the Chicago area, NARS brings together representatives from this network of more than 7,000 members of the rail shipping and railroad community in an annual forum, which enables open discussion of rail transportation issues. For more information, please visit the NARS website at www.railshippers.com.
MEDIA CONTACT
Carrie Foor, NARS executive director
Phone: (331) 643-3369
Email: nars@railshippers.com