Kenco Wins Highest Safety Honors from American Trucking Associations
CHATTANOOGA, Tenn.—Nov. 17, 2015 (James Street Media Services)—
Kenco Transportation Services was recently honored with the top safety award for its category in the annual competition sponsored by the American Trucking Associations (ATA), along with several other major ATA honors.
Kenco
—a leading provider of integrated logistics solutions, real estate services, and material handling equipment—received the 2015 ATA President's Trophy in the Under 25 Million Miles category. The award is given to a company judged most outstanding on the basis of its comprehensive safety program.
The ATA also honored Kenco with:
• First place in the National Truck Safety Contest (General Commodities/Truckload/Line-Haul up to 10 Million Miles);
• The Safety Improvement Award and the Division Improvement Award in the National Truck Safety Contest;
• Plus, the ATA Safety Management Council recognized Kenco Manager of Fleet Safety Joe Smith with the 2015 Leadership Award and the 2015 National Safety Professional Award of Excellence for his leadership and contributions to motor carrier, highway, and workplace safety.
"This is a very prestigious honor due to the high-caliber and outstanding safety records of all the companies that entered the competition," said Kevin Fletcher, Kenco's senior vice president, Transportation. "It is great to have not only our record—but also our culture of safety at Kenco—recognized by the ATA."
Kenco Transportation Services began providing transportation solutions to Kenco's contract warehousing customers in the 1980s and expanded over time to include dedicated transportation carriage, OTR transportation, and freight brokerage. 
Fletcher said the No. 1 priority at Kenco is providing a safe and secure work environment for its employees, and reliable service to its customers. Since its founding in 1950, the company has taken a proactive approach to ensure safety is an integral part of its overall culture by investing in its people and technology. Kenco's safety program encompasses training, coaching, driver incentive programs, peer reviews, and the use of high-tech safety features and other technology.
 "Our customers rely on us for innovative solutions that lower transportation costs and improve customer service, but it all starts with safe driving on the road," said Fletcher.
American Trucking Associations (ATA) is the largest national trade association for the trucking industry. Through a federation of 50 affiliated state trucking associations and industry-related conferences and councils, ATA is the voice of the industry America depends on most to move our nation's freight. Follow ATA on
Twitter
or on
Facebook
. 
Kenco provides integrated logistics solutions that include distribution and fulfillment, comprehensive transportation management, material handling services, real estate management, and information technology—all engineered for Operational Excellence. Woman-owned and financially strong, Kenco has built lasting customer relationships for more than 60 years. Kenco's focus is on common sense solutions that drive uncommon value. Learn more at
www.kencogroup.com
. Also, connect with Kenco on
Twitter
,
Facebook
,
LinkedIn
, and the
Kenco Blog
.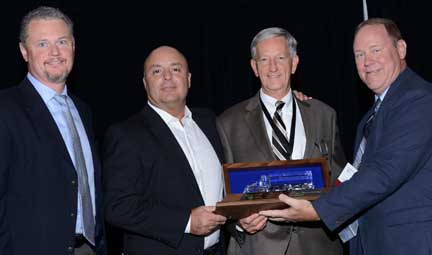 On hand for the award presentation were (from left): Jeff Tanner, vice president,
Risk Management, Kenco Management Services; Richard Scott, director, Kenco
Transportation Services; Joe Smith, manager, Fleet Safety, Kenco Management
Services; and Dan Randall, Safety Representative and Loss Control Services,
Great West Casualty Insurance Company which sponsored the award.
Kenco's warehouses and facilities are located in: Allentown, PA; Asheville, NC; Avenel, NJ; Bakersfield, CA; Baltimore, MD; Bolingbrook, IL; Camden, SC; Carrollton, TX; Charleston, SC; Chattanooga, TN; Chino, CA; Clearfield, UT; Covington, GA; Dallas, TX; Dalton, GA; Denver, CO; Devens, MA; Duncan, SC; Dundee, MI; Fairburn, GA; Fontana, CA; Grand Rapids, MI; Groveport, OH; Harrisburg, PA; Hartsville, SC; Houston, TX; Hutchins, TX; Indianapolis, IN; Janesville, WI; Joliet, IL; Kalamazoo, MI; Louisville, KY; Lumberton, NC; Madison, AL; McDonough, GA; Memphis, TN; Monroe, NJ; Mount Vernon, IN; Nashville, TN; Oakland, NJ; Ogden, UT; Ontario, CA; Orange, TX; Orlando, FL; Pendergrass, GA; Portage, MI; Portland, OR; Puyallup, WA; Rancho Cucamonga, CA; Reading, PA; Redlands, CA; Robbinsville Township, NJ; Romeoville, IL; Salt Lake City, UT; Savannah, GA; Seaford, DE; Stone Fort, VA; Wilmer, TX; Zeeland, MI; and Milton, Ontario, Canada.
For further information contact:
Bill Fahrenwald
James Street Associates
708-528-0681