Kenco Opens New Upper Midwest Distribution Center
CHATTANOOGA, Tenn.—Oct. 14, 2015 (James Street Media Services)—
Kenco
—a leading provider of integrated logistics solutions, real estate services, and material handling equipment—has opened a new 300,000-square-foot distribution center (DC) in Kalamazoo, Michigan.
The facility meets standards for handling medical products, and includes 17 loading docks and 120 truck trailer parking spots. It will replace another nearby facility that Kenco has outgrown. The company currently has 100 associates at this location and anticipates adding 10 more permanent jobs in the next two years. Goods manufactured in Upper Midwest locations will be shipped from the Kalamazoo DC to both North American and international destinations. 
"Increased shipping volumes and strong customer demand for services prompted us to build the expanded DC," says Paula Hise, Kenco group vice president, Health and Personal Care. "We have leveraged this opportunity by including best-in-class warehouse and management tracking systems that provide our clients with centralized distribution and planning capabilities." 
Kenco will provide a full range of distribution ser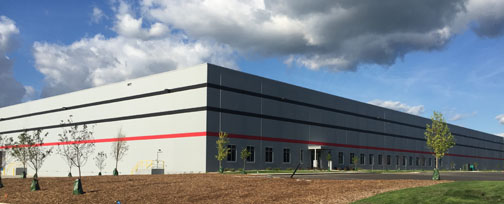 vices at the Kalamazoo DC including order fulfillment, reverse logistics, raw materials management, and transportation.
Kenco is headquartered in Chattanooga, Tennessee, and has more than 90 warehouse facilities spread across the U.S. and Canada. 
Kenco provides integrated logistics solutions that include distribution and fulfillment, comprehensive transportation management, material handling services, real estate management, and information technology—all engineered for Operational Excellence. Woman-owned and financially strong, Kenco has built lasting customer relationships for more than 60 years. Kenco's focus is on common sense solutions that drive uncommon value. Learn more at
www.kencogroup.com
. Also, connect with Kenco on
Twitter
,
Facebook
,
LinkedIn
, and the
Kenco Blog
.
Kenco's warehouses and facilities are located in: Allentown, PA; Asheville, NC; Avenel, NJ; Bakersfield, CA; Baltimore, MD; Bolingbrook, IL; Camden, SC; Carrollton, TX; Charleston, SC; Chattanooga, TN; Chino, CA; Clearfield, UT; Covington, GA; Dallas, TX; Dalton, GA; Denver, CO; Devens, MA; Duncan, SC; Dundee, MI; Fairburn, GA; Fontana, CA; Grand Rapids, MI; Groveport, OH; Harrisburg, PA; Hartsville, SC; Houston, TX; Hutchins, TX; Indianapolis, IN; Janesville, WI; Joliet, IL; Kalamazoo, MI; Louisville, KY; Lumberton, NC; Madison, AL; McDonough, GA; Memphis, TN; Monroe, NJ; Mount Vernon, IN; Nashville, TN; Oakland, NJ; Ogden, UT; Ontario, CA; Orange, TX; Orlando, FL; Pendergrass, GA; Portage, MI; Portland, OR; Puyallup, WA; Rancho Cucamonga, CA; Reading, PA; Redlands, CA; Robbinsville Township, NJ; Romeoville, IL; Salt Lake City, UT; Savannah, GA; Seaford, DE; Stone Fort, VA; Wilmer, TX; Zeeland, MI; and Milton, Ontario, Canada.
For further information contact:
Bill Fahrenwald
James Street Associates
708-371-0110 Ext. 2-#