Kenco Named Top Whirlpool Finished Goods Warehouse Provider
CHATTANOOGA, Tenn.—Oct. 28, 2015 (James Street Media Services)—
Whirlpool Corporation has honored
Kenco
as one of its top supply chain partners for 2014. Kenco—a leading provider of integrated logistics solutions, real estate services, and material handling equipment—has been providing logistics services to Whirlpool for more than 35 years.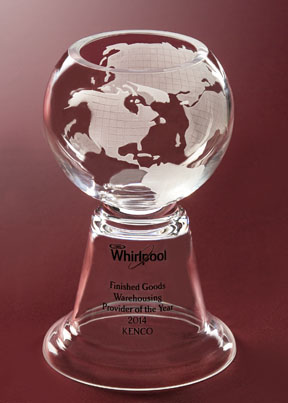 The Whirlpool Integrated Supply Chain Carrier/Service of the Year Awards are selected by a cross-functional committee that evaluates both quantitative and qualitative data.
"Kenco is a great logistics partner," said Jim Keppler, vice president, Whirlpool Integrated Supply Chain and Quality. "Their performance and support of our strategy is vital to our success,and we count on them to ensure we deliver our commitments to our customers every day."
Kenco provides Whirlpool with warehousing, product customization, and returns processing at locations throughout the United States and Canada. This month, Kenco is celebrating its 36th year of service to Whirlpool. 
"Our long relationship with Whirlpool has been mutually rewarding," said David Caines, Kenco's chief operating officer. "We have worked hard to provide Whirlpool with innovative solutions using the best people, processes, and technology, and we appreciate the recognition for the successful partnership we have built together." 

Whirlpool Corporation is the number one major appliance manufacturer in the world, with approximately $20 billion in annual sales, 100,000 employees and 70 manufacturing and technology research centers throughout the world in 2014. The company markets Whirlpool, KitchenAid, Maytag, Consul, Brastemp, Amana, Bauknecht, Jenn-Air, Indesit and other major brand names in more than 170 countries. Additional information about the company can be found at WhirlpoolCorp.com, or find us on Twitter at @WhirlpoolCorp.  
Kenco provides integrated logistics solutions that include distribution and fulfillment, comprehensive transportation management, material handling services, real estate management, and information technology—all engineered for Operational Excellence. Woman-owned and financially strong, Kenco has built lasting customer relationships for more than 60 years. Kenco's focus is on common sense solutions that drive uncommon value. Learn more at
www.kencogroup.com
. Also, connect with Kenco on
Twitter
,
Facebook
,
LinkedIn
, and the
Kenco Blog
.
Kenco's warehouses and facilities are located in: Allentown, PA; Asheville, NC; Avenel, NJ; Bakersfield, CA; Baltimore, MD; Bolingbrook, IL; Camden, SC; Carrollton, TX; Charleston, SC; Chattanooga, TN; Chino, CA; Clearfield, UT; Covington, GA; Dallas, TX; Dalton, GA; Denver, CO; Devens, MA; Duncan, SC; Dundee, MI; Fairburn, GA; Fontana, CA; Grand Rapids, MI; Groveport, OH; Harrisburg, PA; Hartsville, SC; Houston, TX; Hutchins, TX; Indianapolis, IN; Janesville, WI; Joliet, IL; Kalamazoo, MI; Louisville, KY; Lumberton, NC; Madison, AL; McDonough, GA; Memphis, TN; Monroe, NJ; Mount Vernon, IN; Nashville, TN; Oakland, NJ; Ogden, UT; Ontario, CA; Orange, TX; Orlando, FL; Pendergrass, GA; Portage, MI; Portland, OR; Puyallup, WA; Rancho Cucamonga, CA; Reading, PA; Redlands, CA; Robbinsville Township, NJ; Romeoville, IL; Salt Lake City, UT; Savannah, GA; Seaford, DE; Stone Fort, VA; Wilmer, TX; Zeeland, MI; and Milton, Ontario, Canada.
For further information contact:
Bill Fahrenwald
James Street Associates
708-371-0110 Ext. 2-#