Kenco Explores Drone Technology in Deployment of Advanced PINC Yard Management System
CHATTANOOGA, Tenn.—Nov. 4, 2015 (James Street Media Services)—
Warehouse automation may soon take to the skies, as logistics provider
Kenco
teams up with PINC Solutions to explore the use of drones to manage warehouse systems and yard operations.
Kenco—a leading provider of integrated logistics solutions, real estate services, and material handling equipment—is leveraging PINC's Advanced Yard Management platform to provide real-time asset tracking at a large facility in the Midwest. In addition, the two companies are exploring the potential to deploy drones for yard management at Kenco distribution facilities. 
"Kenco wants to use drones for managing real-time data gathering in outside yard operations," said Kristi Montgomery, vice president, Kenco Innovation Labs. "PINC's patented RTLS sensor platform captures locations of assets and inventory, and can provide up-to-the-minute information that would allow Kenco to customize and segment yard operations based on customer needs and business rules."
Montgomery said Kenco sees tremendous opportunities for providing higher levels of customer service by integrating real-time data into existing systems.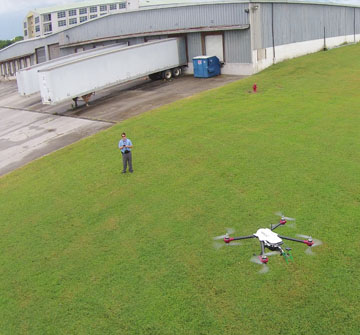 "One of the reasons Kenco formed its own innovation labs was to explore opportunities like this one, and invest in leading-edge supply chain technologies that deliver greater value for our customers," she said.
Kenco recently implemented PINC's core YMS application for a customer in the durable goods industry. After a successful two-month pilot, the customer is installing the system across its U.S. network. Once PINC's drone solution is available, Kenco plans to partner with the company on its first drone-enabled site.
"PINC is delighted to work with Kenco to provide advanced asset tracking through our state-of-the-art technologies," said Matt Yearling, PINC's CEO. "By taking a holistic view, PINC can help Kenco gain even better insights into their business process execution, labor utilization, asset utilization, and inventory management."
Kenco is headquartered in Chattanooga, Tennessee, and has more than 90 warehouse facilities spread across the U.S. and Canada. 
PINC is the pioneer in real time location system technologies that are delivered as cloud services and powered by the Internet of Things (IoT). PINC's secure sensor platform provides enhanced visibility for supply chain operations. Customers use PINC so they can quickly react to changes and automatically orchestrate actions according to business rules. Learn more at
www.pincsolutions.com
.
Kenco provides integrated logistics solutions that include distribution and fulfillment, comprehensive transportation management, material handling services, real estate management, and information technology—all engineered for Operational Excellence. Woman-owned and financially strong, Kenco has built lasting customer relationships for more than 60 years. Kenco's focus is on common sense solutions that drive uncommon value. Learn more at
www.kencogroup.com
. Also, connect with Kenco on
Twitter,
Facebook
,
LinkedIn
, and the
Kenco Blog
.
Kenco's warehouses and facilities are located in: Allentown, PA; Asheville, NC; Avenel, NJ; Bakersfield, CA; Baltimore, MD; Bolingbrook, IL; Camden, SC; Carrollton, TX; Charleston, SC; Chattanooga, TN; Chino, CA; Clearfield, UT; Covington, GA; Dallas, TX; Dalton, GA; Denver, CO; Devens, MA; Duncan, SC; Dundee, MI; Fairburn, GA; Fontana, CA; Grand Rapids, MI; Groveport, OH; Harrisburg, PA; Hartsville, SC; Houston, TX; Hutchins, TX; Indianapolis, IN; Janesville, WI; Joliet, IL; Kalamazoo, MI; Louisville, KY; Lumberton, NC; Madison, AL; McDonough, GA; Memphis, TN; Monroe, NJ; Mount Vernon, IN; Nashville, TN; Oakland, NJ; Ogden, UT; Ontario, CA; Orange, TX; Orlando, FL; Pendergrass, GA; Portage, MI; Portland, OR; Puyallup, WA; Rancho Cucamonga, CA; Reading, PA; Redlands, CA; Robbinsville Township, NJ; Romeoville, IL; Salt Lake City, UT; Savannah, GA; Seaford, DE; Stone Fort, VA; Wilmer, TX; Zeeland, MI; and Milton, Ontario, Canada.
For further information contact:
Bill Fahrenwald
James Street Associates
708-371-0110 Ext. 1-#