Kenco's Kristi Montgomery Co-Chairs IWLA Tech-Ops Conference in Chicago
Kenco staff will present on WMS and KPI topics
CHATTANOOGA, Tenn.—November 5, 2014 (James Street Media Services)—Kenco's Kristi Montgomery will co-chair and speak at the upcoming "Technology & Operations Solutions for Warehousing Conference" sponsored by the International Warehouse Logistics Association (IWLA) November 11–12 in Rosemont, Illinois.
The annual conference is aimed at warehouse technology and operations professionals to help them make their facilities more efficient and profitable.
In addition to co-chairing the event, Montgomery will present on Warehouse Management System (WMS) challenges from the customer perspective. She will be joined at the conference by Jason Minghini, Kenco's vice president of Best Practices, who will speak about key performance indicators.
The IWLA event includes Tech Ops-focused sessions and a tradeshow to give attendees a preview of the latest products and demonstrations from the manufacturers. Topics cover change management, KPIs & metrics, leading in today's dynamic logistics environment, system implementation challenges, green energy, and sustainability. The conference is a unique educational event offering opportunities to share best practices and network with others.
Montgomery joined Kenco in 1990. As vice president of technology, she is responsible for all facets of technology including strategy, applications, infrastructure, support, and execution. She also serves as the chairman of the local IT Leadership Committee, is a member of her local chapter of Women in Technology, Inc., and is a Certified Information Executive Level II. She frequently volunteers in the BuildIT program in the local chapter of Girls, Inc., a program designed to encourage middle and high school girls to enter a career in information technology.
More information about the IWLA conference is available online.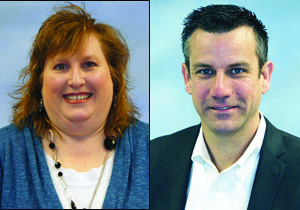 Kristi Montgomery and Jason Minghini             
    
About Kenco

Kenco provides integrated logistics solutions that include distribution and fulfillment, comprehensive transportation management, material handling services, real estate management, and information technology—all engineered for Operational Excellence. Woman-owned and financially strong, Kenco has built lasting customer relationships for more than 60 years. Kenco's focus is on common sense solutions that drive uncommon value. Learn more at www.kencogroup.com. Also, connect with Kenco on Twitter, Facebook, LinkedIn, and the Kenco Blog.
Kenco's warehouses and facilities are located in: Aberdeen, MD; Asheville, NC; Aurora, CO; Avenel, NJ; Bakersfield, CA; Black Creek, GA; Bolingbrook, IL; Carrollton, TX; Chattanooga, TN; Chino, CA; City of Industry, CA; Colonial Heights, VA; Covington, GA; Devens, MA; Dundee, MI; Clearfield, UT; Dallas, TX; Dalton, GA; Duncan, SC; Fairburn, GA; Fontana, CA; Fresno, CA; Groveport, OH; Houston, TX; Hutchins, TX; Janesville, WI; Kalamazoo, MI; Keasbey, NJ; Knoxville, TN; Kutztown, PA; Louisville, KY; Lugoff, SC; Lumberton, NC; Lyndhurst, VA; Madison, AL; Manteno, IL; McBee, SC; McDonough, GA; New Kingston, PA; Memphis, TN; Monroe, NJ; Mount Vernon, IN; Nashville, TN; Oakland, NJ; Ogden, UT; Orange, TX; Orlando, FL; Portland, OR; Puyallup, WA; Rancho Cucamonga, CA; Reading, PA; Redlands, CA; Robbinsville Township, NJ; Salt Lake City, UT; San Bernardino, CA; Seaford, DE; Whitestown, IN; Wilmer, TX; York, PA; Zebulon, NC; Zeeland, MI; and Milton, Ontario, Canada.
For further information contact:
Bill Fahrenwald
James Street Associates                        
708-371-0110 Ext. 1-#
bfahrenwald@jamesstreetassoc.com