Jason Minghini of Kenco Presenting at Warehouse Education and Research Council Conference
CHATTANOOGA, Tenn.—April 29, 2015 (James Street Media Services)
—Jason Minghini, vice president of best practices at
Kenco
, will make a presentation on optimizing manufacturing distribution centers at the upcoming annual conference of the Warehouse Education and Research Council (
WERC
).
Minghini's presentation—"Building a Better Manufacturing DC"—is one of several Peer2Peer sessions at the WERC conference, which runs May 3–6 in Orlando. He will also be leading a breakout session on applying simple Lean Six Sigma principles within the warehouse to help move an operation closer to a just-in-time philosophy.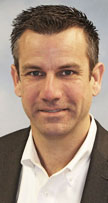 Minghini joined Kenco—a leading provider of integrated logistics solutions, real estate services, and material handling equipment—in 2007 as a senior logistics engineer and served as director of operations. Currently, he is the vice president of best practices, which encompasses traditional industrial engineering, Lean Six Sigma, along with program management and quality.
About Kenco

Kenco provides integrated logistics solutions that include distribution and fulfillment, comprehensive transportation management, material handling services, real estate management, and information technology—all engineered for Operational Excellence. Woman-owned and financially strong, Kenco has built lasting customer relationships for more than 60 years. Kenco's focus is on common sense solutions that drive uncommon value. Learn more at www.kencogroup.com. Also, connect with Kenco on Twitter, Facebook, LinkedIn, and the Kenco Blog.
Kenco's warehouses and facilities are located in: Aberdeen, MD; Asheville, NC; Aurora, CO; Avenel, NJ; Bakersfield, CA; Black Creek, GA; Bolingbrook, IL; Carrollton, TX; Chattanooga, TN; Chino, CA; City of Industry, CA; Colonial Heights, VA; Covington, GA; Devens, MA; Dundee, MI; Clearfield, UT; Dallas, TX; Dalton, GA; Duncan, SC; Fairburn, GA; Fontana, CA; Fresno, CA; Groveport, OH; Houston, TX; Hutchins, TX; Janesville, WI; Kalamazoo, MI; Keasbey, NJ; Knoxville, TN; Kutztown, PA; Louisville, KY; Lugoff, SC; Lumberton, NC; Lyndhurst, VA; Madison, AL; McBee, SC; McDonough, GA; Memphis, TN; Monroe, NJ; Mount Vernon, IN; Nashville, TN; New Kingston, PA; Oakland, NJ; Ogden, UT; Orange, TX; Orlando, FL; Portland, OR; Puyallup, WA; Rancho Cucamonga, CA; Reading, PA; Redlands, CA; Robbinsville Township, NJ; Salt Lake City, UT; San Bernardino, CA; Seaford, DE; Whitestown, IN; Wilmer, TX; York, PA; Zebulon, NC; Zeeland, MI; and Milton, Ontario, Canada.
For further information contact:
Bill Fahrenwald
James Street Associates
708-371-0110 Ext. 1-#
bill@jamesstreet.net