James Street Media Relations Work Honored by TMSA

CHICAGO—June 9, 2016 (James Street Media Services)—A James Street Associates media relations campaign for logistics provider Kenco recently won the Compass Award from the Transportation Marketing and Sales Association (TMSA).
The award was given at the TMSA annual conference on June 6, 2016 in St. Petersburg, Florida.
"The goal of the Compass Awards Program is to raise the standard of marketing innovation and sales performance in the transportation and logistics industry," said Elena Izakson, the 2016 chairperson of TMSA Recognition Committee. "This is a coveted awards program that plays a meaningful role in recognizing the best in our industry's marketing and sales disciplines."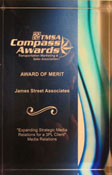 The media relations campaign highlighted Kenco's expertise and accomplishments in the logistics industry. The 12-month campaign resulted in published articles, quotes, and news briefs—154 media placements in all, including more than two-dozen prominent articles in leading logistics publications. 
"Our participation in the Compass Award Program was more than an opportunity for recognition," said Bill Fahrenwald, executive director, James Street Associates. "The award entry process is designed to focus entrants on producing measureable and meaningful results. We use this model to deliver on the ultimate goals of our clients."
About TMSA
The Transportation Marketing and Sales Association (TMSA) provides knowledge, connections, recognition, and solutions to marketing, sales, and communications professionals in the transportation and logistics industries. Member companies include motor carriers, railroads, air carriers, ocean lines, 3PLs, OEMs, media and suppliers, and account for more than $300 billion in revenue each year. For more information, visit www.TMSAtoday.org.  
About James Street Associates
James Street Associates delivers marketing communications in the business-to-business arena, specifically the logistics and supply chain sectors. James Street customers value marketing, media relations, and content development as a profitable investment, and the agency excels in creating innovative solutions to reach target audiences. For more information, visit www.jamesstreet.net. 
For further information contact:
Bill Fahrenwald
James Street Associates                        
708-371-0110 Ext. 1-#
bill@jamesstreet.net