James Street Building in 1851
James Street Building in 1851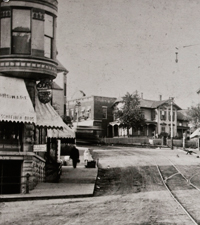 We love working in the historic Schreiber Hardware building, and especially in our quiet little corner of James Street and Olde Western Avenue. Until 1964, when Western Avenue was re-routed over a new steel bridge, this was a hopping place! Before then, Western Avenue lead to an older bridge which spanned the CalSag waterway. Shops and houses lined the approach. Many of those buildings were torn down to make way for the new bridge. But some remain, including the Schreiber Hardware building.
August Schreiber came to Blue Island from Germany in 1851 and opened a tin shop at the northwest corner of James Street and Western Avenue. The business eventually expanded to include a full line of hardware, buggies and farm equipment and operated here for over a century. It was a one-stop-shop for local tradesmen and farmers. Across the street awaited a thirst-quenching brew at Englund's pub. According to legend, Englund's was later was named The Bucket of Blood, after a forgettable B movie.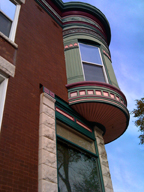 Another unconfirmed Blue Island legend is that during prohibition the brewery, once located next door, hid liquor in vaults under Western Avenue. Might that have caused the sink hole that nearly ate the car of one of our staff?