James Street Associates Produces Visitors Guide for Blue Island, Illinois

FOR IMMEDIATE RELEASE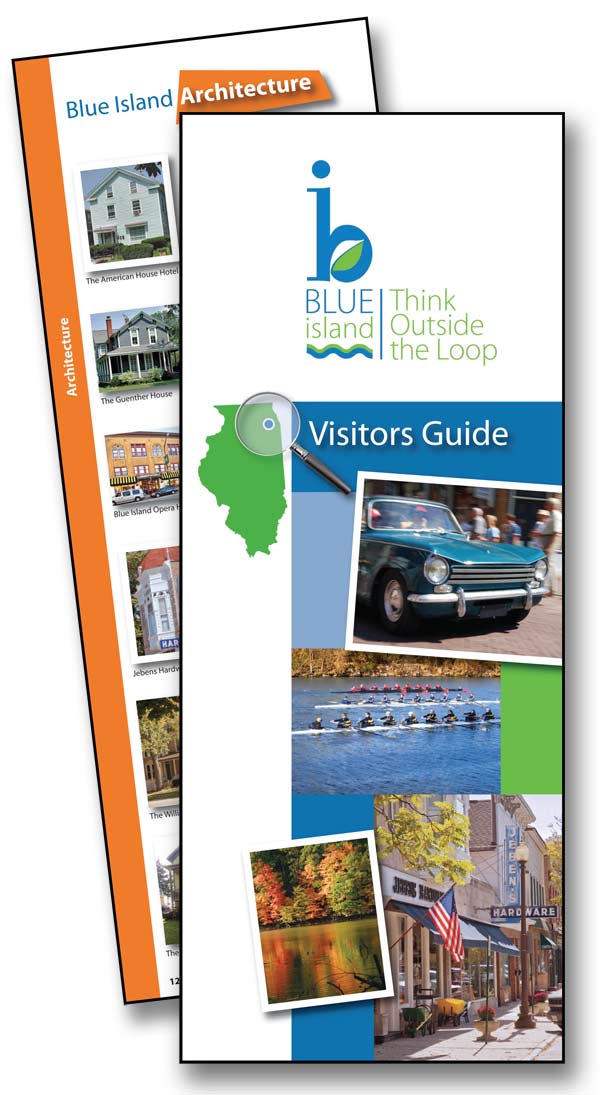 BLUE ISLAND, IL—August 21, 2012 (James Street Media Services)—James Street Associates announced the completion of the new Blue Island Visitors Guide, launched recently by the City of Blue Island. The 28-page brochure is an at-a-glance guide for Blue Island residents and visitors, spotlighting the retail, architectural and historic highlights of Blue Island, Illinois.
 "We were honored to work with the City of Blue Island on this significant project. As a resident of the City, I was proud and amazed by the depth of knowledge and enthusiasm of the Blue Island team," said Martha Anderson, executive director, James Street Associates. "The guide was the first of its kind in a long, long time and now we're all looking forward to watching it evolve over many printings."
For a free copy of the "Blue Island Visitors Guide" contact info@jamesstreetassoc.com.
Development of the Blue Island Visitors Guide was supported in part by a Preserve America grant administered by the National Parks Service, Department of Interior.
About James Street Associates

Located in Blue Island, Illinois, James Street Associates is a privately-held media relations and marketing communications agency that helps cultivate relationships between its national clients and their market. The award-winning firm employs a strategic process that pays close attention to client business objectives. As a business-to-business focused media relations and marketing communications agency, James Street creates brand awareness and credibility that lay a foundation for solid leads and profitable customer relationships.
About the City of Blue Island
Blue Island is a 4.5-square-mile city of 23,500 people that borders the Chicago communities of Morgan Park and Beverly. Settled in 1835, Blue Island is a diverse, vibrant community with small-town charm. Blue Island is ideally situated 15 miles from downtown Chicago, just a short trip on one of the more than 100 daily trains on Metra's Electric and Rock Island lines. Two interstate highways provide convenient links to nearby suburbs. Bus transportation is available throughout Blue Island and surrounding communities, and the City is bike- and pedestrian-friendly. Blue Island was designated a Preserve America Community in 2007.
Blue Island is host to a number of community celebrations throughout the year. Residents can choose to participate in activities with one of the many community clubs and fraternal organizations. Local businesses and government have been active in preserving Blue Island's unique character while fostering growth in other areas. The Blue Island Plan for Economic Development, adopted in 2005, seeks to revitalize the City's economy by leveraging key strengths, such as the variety of transportation alternatives, strong industrial infrastructure, proximity to many universities and colleges, and some of the finest healthcare facilities in the region.
Media Contact
Bill Fahrenwald

James Street Associates
708-371-0110 ext 1#
bfahrenwald@jamesstreetassoc.com