First Welcome Weekend: Blue Island is the Place to "Think Outside The Loop"
FOR IMMEDIATE RELEASE
High-resolution photos available at www.blueisland.org. High-resolution logo available at www.blueisland.org/newsroom/
BLUE ISLAND, IL—September 23rd, 2010 (James Street Media Services)—The first "Welcome Weekend" in Blue Island, Illinois brought out hundreds of residents and visitors to celebrate the historic city's 175th birthday, enjoy the house walk, and recognize significant beautification projects.
The official Welcome Weekend kick-off was Friday, Sept. 17 when Mayor Donald E. Peloquin unveiled the new city logo. "After the unveiling, some of our residents brought Blue Island mementos for a little show and tell," Peloquin said. "The oldest memento was a 19th Century beer bottle brought in by Richard and Bill Bauer. And a Moose Lodge tap dance recital program got a chuckle." As with most birthday parties, the evening ended with cake, ice cream and singing. Photos, below.
The unveiling of the new logo was the culmination of a project launched earlier this year to align Blue Island's image as an historic community focused on preserving its heritage, while growing in sustainable ways. The tagline, "Think Outside The Loop," invites residents to rethink the community, to embrace new ideas, and enjoy the history, culture, and recreational opportunities available in Blue Island. A high-resolution logo is available upon request.
"Our Welcome Weekend was designed to welcome everyone—residents and visitors alike—to a new era in Blue Island's vision and development," Peloquin said. "This weekend's events were inspiring."
Welcome Weekend events included:
• Friday's 175th Birthday Party, attended by 200 celebrants.
Residents shared stories of their lives in Blue Island with the crowd.
To see photos of the party, visit www.blueisland.org
• Saturday night's 20th Annual Cavalcade of Pride Dinner, where 100 invited guests honored top beautification projects completed during the previous year. To see the winners, visit www.blueisland.org/cavalcade-of-pride
• Sunday's 27th House Walk and Tour with some 200 participants, many of whom completed their tour at a reception in the Blue Island Historical Society's history museum. For more information, visit www.blueislandhistoricalsociety.com
The weekend was hosted by the City of Blue Island, its Historic Preservation Commission and the Blue Island Historical Society. Mayor Peloquin expressed thanks to the many hands that made this event possible. "We are particularly grateful to the generous sponsors who stepped forward to help—many without being asked." See a list of our sponsors.
"More and more 'urban explorers' consider Blue Island a friendly destination for restaurants, shops, history, architecture and recreation," Peloquin said. "And as the word is spreading, folks are discovering that by train or car, it's easy to get to Blue Island. Once you visit us, we know you'll be back."
The Blue Island Welcome Weekend was a part of a Preserve America Cultural Heritage Marketing and Outreach effort, made possible with a grant from the National Park Service.
About the City of Blue Island
Blue Island is a 4.5-square-mile city of 23,500 people that borders the Chicago communities of Morgan Park and Beverly. Settled in 1835, Blue Island is a diverse, vibrant community with small-town charm. Blue Island is ideally situated 15 miles from downtown Chicago, just a short trip on one of the more than 100 daily trains on Metra's Electric and Rock Island lines. Two interstate highways provide convenient links to nearby suburbs. Bus transportation is available throughout Blue Island and surrounding communities, and the City is bike- and pedestrian-friendly. Blue Island was designated a Preserve America Community in 2007.
Blue Island is host to a number of community celebrations throughout the year. Residents can choose to participate in activities with one of the many community clubs and fraternal organizations. Local businesses and government have been active in preserving Blue Island's unique character while fostering growth in other areas. The Blue Island Plan for Economic Development, adopted in 2005, seeks to revitalize the City's economy by leveraging key strengths, such as the variety of transportation alternatives, strong industrial infrastructure, proximity to many universities and colleges, and some of the finest heathcare facilities in the region.
About the Blue Island Historic Preservation Commission
The Historic Preservation Commission (HPC) was established in 1981 and is composed of seven residents appointed by the Mayor. The HPC makes recommendations to the City Council on preservation matters, including Landmark and Historic District nominations. Sixty-seven properties have been designated local landmarks, including the Old Western Avenue Historic District. Blue Island is an Illinois Historic Preservation Agency Certified Local Government.
About Blue Island Historical Society
Blue Island Historical Society (BIHS) brings together people who are interested in history—and especially in the history of Blue Island. Understanding our community's past is basic to our democratic way of life, gives us a better understanding of our state and nation, and promotes a better appreciation of our American heritage. Located in the 132-year-old BIHS/Albee House at 13018 Maple Avenue, BIHS sponsors events and presentations throughout the year.
For further information contact:

Bill Fahrenwald
James Street Associates

708-371-0110 Ext. 1-#

bfahrenwald@jamesstreetassoc.com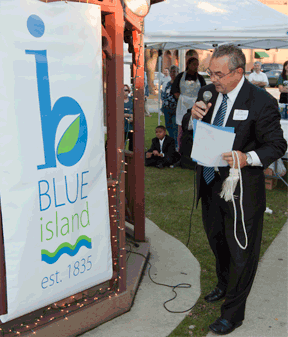 Mayor Donald E. Peloquin unveils the new Blue Island logo. Photo credit: George Poulos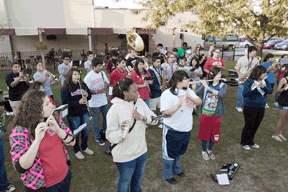 The Eisenhower High School marching band added a sense of spirit to the evening. Thanks to bandleader Justin Antos for arranging this musical treat! Photo credit: George Poulos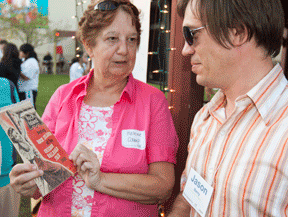 Blue Island resident of 48 years, Helene Camp shares a memento from Blue Island's past: a Rock Island Brochure for the 1949 Chicago Railroad Fair. Jason Berry, project coordinator for Blue Island Community Development, was the master of ceremonies for the event. Photo credit: George Poulos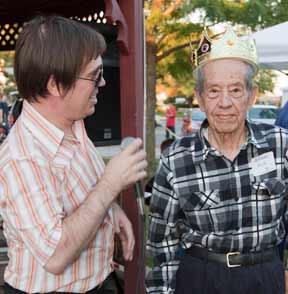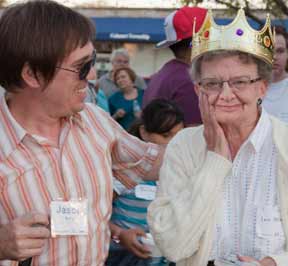 Master of ceremonies, Jason Berry, crowned King Herman and Queen Lois, as the longest tenured residents at the party. Herman Ruiz has lived in Blue Island for 81 years and Lois Rieher has been a resident for 83 years. Photo credit: George Poulos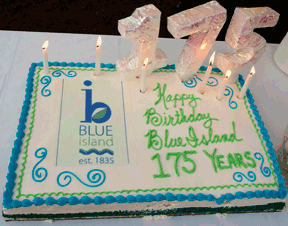 Event sponsor MetroSouth Medical Center made a delicious cake, and ice cream was donated by Shawn Michelle's Homemade Ice Cream. Photo credit: George Poulos
Event Sponsorship:
Blue Island has embarked on a Preserve America Cultural Heritage Marketing and Outreach effort, made possible with a grant from the National Park Service.
Our Welcome Weekend was also supported by these generous sponsors:
Aldi, Blue Island Historical Society, Blue Island Public Library, Calumet Park Troublemakers Athletic Club, CARR home garden holiday, Darling International, Eisenhower High School Marching Band, George Poulos and Associates, James Street Associates, MetroSouth Medical Center, National Park Service, Restaurante Tenochtitlan, Shawn Michelle's Homemade Ice Cream, The Forum, and Ultra Foods – Calumet Park.