First Railserve Tier 4 DUAL LEAF® Gen-Set Locomotive Placed in Service

ATLANTA—June 7, 2017—(James Street Media Services)—The first Railserve Tier 4 DUAL LEAF® Gen-Set Locomotive has been placed in service. The unit is performing well for a Railserve customer and generating more interest in the powerful switching locomotives that provide significant reductions in fuel use and emissions.
"Although our Tier 4 DUAL LEAF locomotive looks identical to previous models, users will notice better operating performance and reduced environmental impacts," said TJ Mahoney, Railserve LEAF program manager.
Railserve produces the updated locomotives at the company's manufacturing facility in Longview, Texas in compliance with federal Tier 4 environmental regulations.
The DUAL LEAF was developed for shippers, industrial railroads, and short line railroads that operate where there is a need for high-tractive effort at speeds up to 30 mph. Like the original DUAL LEAF, the Tier 4 units are cost-effective at high-utilization rates, and their operation is nearly indistinguishable for crews accustomed to widely used SW or GP-type locomotives.
Railserve continues to equip its DUAL LEAF models with two Cummins QSX15 engines, upgraded for Tier-4 compliance. Because the footprint of the Tier 4 Cummins engines are similar, there was no need for the locomotive to be redesigned.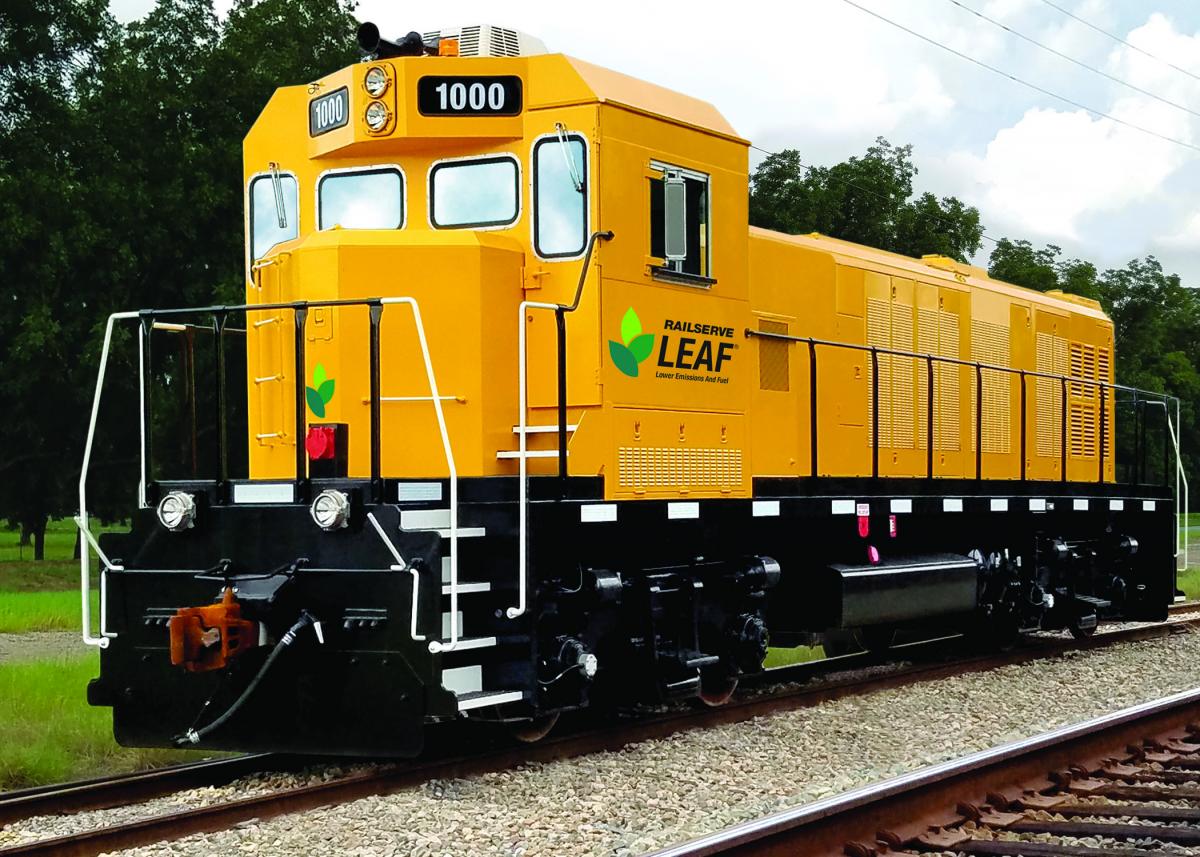 The Railserve Tier 4 DUAL LEAF® Gen-Set Locomotive



As compared with conventional units, the new DUAL LEAF Tier 4-compliant locomotives will cut particulate emissions by 99% and NOx emissions by 92%. Fuel economy is expected to improve, because the Tier 4 units operate at lower RPMs in low-notch and idle phases, which are typical settings for most switching operations.
The Railserve gensets minimize fuel usage and significantly reduce emissions while maintaining the performance of a traditional switching locomotive. The DUAL LEAF is programmed to operate with only one genset under lighter loads, further reducing both fuel use and emissions.
"Rising fuel costs, environmental concerns, and the desire for more efficient operations have prompted rail shippers and receivers to seek alternatives to conventional locomotives for their in-plant rail switching operations," said Mahoney. "The Tier 4 DUAL LEAF is meeting EPA emissions standards for Tier 4 diesel engines. And, more importantly, it is meeting our customers' needs and expectations."
About Railserve
Railserve is the largest provider of in-plant rail switching and associated services—operating in more than 70 locations in the U.S. and Canada. Railserve manufactures the Railserve LEAF® and Railserve Dual LEAF Gen-Set Locomotives at its Longview, Texas facility. Railserve uses its own locomotives and employees to safely move railcars within industrial, manufacturing, and production plants. In addition, Railserve provides other services including railcar loading and unloading; track maintenance, inspection and repair; and more. For more information on Railserve, visit www.Railserve.biz. For more information on the Railserve LEAF® Gen-Set Locomotive, visit www.RailserveLEAF.biz.
Railserve is a Marmon/Berkshire Hathaway company.
For further information and more photos contact:
Bill Fahrenwald
James Street Associates 
708-528-0681
bill@jamesstreet.net