Calligraphers Vie for Newberry Prize
Annual show attracts entries from across the Midwest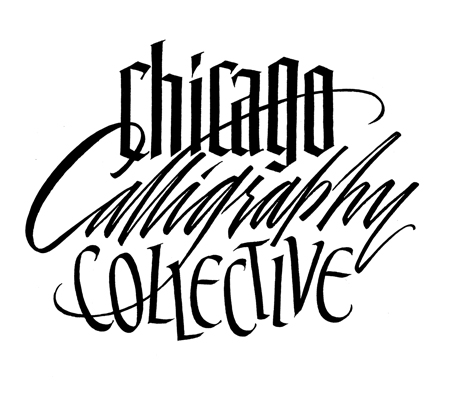 CHICAGO—March 6, 2014 (James Street Media Services)—Thirty-nine entries are in contention for the prestigious Newberry Purchase Prize sponsored by the Chicago Calligraphy Collective (CCC) and the Newberry Library. All will be featured in an exhibit that runs April 7–June 27.
"Exploration 2014" will be the 28th annual juried calligraphy exhibition at the Newberry Library. The CCC received 65 entries, and 39 were accepted for the exhibit. In April, one will be chosen to become part of the library's permanent collection.
"The Newberry Purchase Prize Award—to be announced at the April 12 artists' reception—is one of the largest in the country," said Mary Zabrin, exhibits director for the CCC. "Each year, through generous donations from the CCC and a private donor, the Newberry Library is able to purchase one-of-a-kind, original artwork to be included in its prestigious calligraphic collection."
This year, the entries were judged by four CCC members and a guest juror, including: Rita Foltz, Madison, WI; Tina Lee-Cronkhite, Grand Rapids, MI; Chris Orsolini, Kalamazoo, MI; Leslie Outten, Deerfield, IL; and Paul Gehl, the Newberry Library's George Amos Poole III Curator of Rare Books and Custodian of the John M. Wing Foundation on the History of Printing. For the fifth consecutive year, the judging was hosted by James Street Associates, a Chicago-based marketing communications agency.
Zabrin said the art and craft of contemporary calligraphy extends far beyond the traditional applications most commonly recognized on certificates and wedding invitations. During the artists' reception on April 12, the public is invited to participate in demonstrations and try their hand at various forms of the art using different tools, inks, and paper.
Exploration 2014
April 7–June 27
Newberry Library, R.R. Donnelley Gallery
60 W. Walton, Chicago
Artists' reception and Newberry Purchase Prize announcement
Saturday, April 12 from 11 a.m. to 3 p.m.
Newberry Library, Ruggles Hall
60 W. Walton, Chicago
Reception schedule:
     11 a.m. to 1 p.m. — Demonstrations open to the public
     1 p.m. — Presentation by Steve Woodall, Director, Columbia College's Center for Book and Paper Arts
     Awards announcement to follow
The entries chosen for the juried show were created by 22 talented artists from across the Midwest:
Iowa City, IA—Jeri Hobart
Arlington Heights, IL—Mary Zabrin
Chicago—Andrea Alvarez Cisneros, Jenna Blazevich, Catherine Keebler, Maggie Mokrzycka, and Luce Zolna
Glen Ellyn, IL—Tim Botts
Hoffman Estates, IL—Rosie Kelly
Joliet, IL—Valerie Weilmuenster
Lake Forest, IL—Ellen Mott-Jablonski
Schaumburg, IL—Lisa Kivland
Skokie, IL—Zeeshan Farooq
Wheaton, IL—Amy Vautin
Wilmette, IL—Pam Paulsrud
Highland, IN—Julie Wildman
Munster, IN—Karen Ness
Grand Haven, MI—Jane Ewing
Schoolcraft, MI—Marijo Carney
Excelsior Springs, MO—Carl Kurtz
Madison, WI—Linda Hancock, Susan O'Leary
In addition, each judge has been invited to showcase a piece of their art, and Gehl will display a recent purchase made in Rome for the Newberry Library.
About the Chicago Calligraphy Collective
The Chicago Calligraphy Collective is organized for the charitable and educational purposes of promoting the study, practice, and appreciation of calligraphy in all its historical and present-day applications. By offering educational opportunities, the CCC enhances public awareness and interest in the calligraphic lettering arts. In a world where electronic communication and media are prevalent, CCC members believe that encouraging awareness and appreciation of the "art of beautiful writing" will allow this time-honored and diverse art form to not only endure, but to thrive in the 21st Century.
MEDIA CONTACT
Linda Thielke
James Street Associates
lthielke@jamesstreetassoc.com
708-371-0110 Ext. 5-#