Blue Island's Cornerstone Gallery Hosts Holiday Art Exhibit and Party December 3rd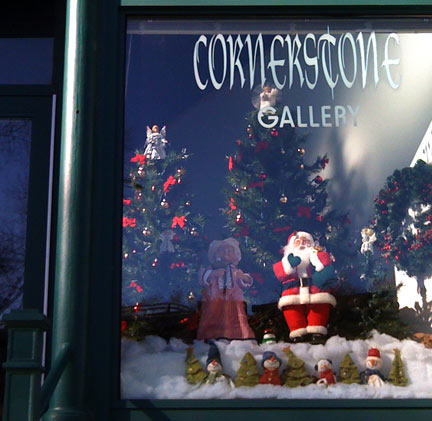 FOR IMMEDIATE RELEASE
Blue Island's Cornerstone Gallery Hosts Holiday Art Exhibit
and Party December 3rd
BLUE ISLAND, IL—November 18, 2011 (James Street Media Services)—Cornerstone Gallery, a premiere art venue in the Chicago area's near south suburbs, will display works from 13 well-known regional artists on Saturday, December 3rd from 5:00 p.m. to 11:00 p.m. Gallery visitors will be welcomed by Cornerstone's much-anticipated holiday decorations, and invited to enjoy refreshments and live music as they view the artwork.
"This beautiful event is something we look forward to every year," says Gallery owner Paulette Stobinski. "Our annual Christmas Party celebrates another year of growth and joy for Cornerstone." Paulette's sparkling window decorations have long been a favorite of Gallery visitors and neighborhood passers-by.
The artists featured in the show are Charles Anderson, Tara Banfield-Lucus, Brian Garay, John Giemzik, Dianna Godbout, Dan Jarvis, C.P. Kaestner, George Lindmark, Roseann Madia, Juan Reynoso, Heather Sepanik, Bridget Scales-Fennessy, and Paulette Stobinske. The exhibit includes oils, acrylics and watercolors, mixed media, jewelry and pottery. Genres span traditional, modern, photo-realism, and portraiture. The artists will be on hand to discuss their pieces and all artwork is available for sale.
Cornerstone Gallery is located in the historic "Schrieber Hardware" building at 13168 Old Western Avenue, Blue Island, Illinois (north of the CalSag River). For more information, please call 708-790-4424.
Media Contact:

Martha Anderson

James Street Associates
708-371-0110 Ext. 2-#
manderson@jamesstreetassoc.com