Blue Island Celebrates 175th Anniversary
FOR IMMEDIATE RELEASE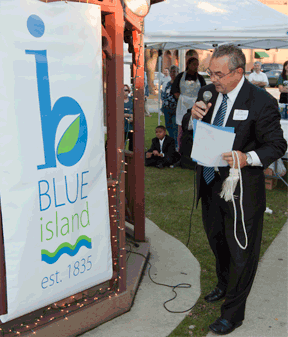 BLUE ISLAND, IL—September 1st, 2010 (James Street Media Services)—Blue Island Mayor Donald E. Peloquin has declared September 17, 18 and 19, "Welcome Weekend" to celebrate the historic city's 175th Anniversary. "Everyone in Blue Island is ready to welcome visitors on this special weekend," Peloquin said. "In addition to the many stores, restaurants, historic homes, beautiful parks and friendly residents, visitors can enjoy special events that take place throughout the year."
Mayor Peloquin expresses thanks to the many hands that are making this event possible, among them are the Blue Island Historic Preservation Commission, The Forum newspaper and the Blue Island Historical Society. This is what visitors can expect:
The City of Blue Island 175th Birthday Party
• Friday, September 17, 2010
• 6:00 p.m.
• Metro South Park at York and Western
• For more information, visit blueisland.org
Mayor Peloquin will unveil a new Blue Island logo, marking the City's continued commitment to development and community pride. Visitors will be treated to a slice of birthday cake and those who show us a memento from Blue Island's past will receive a special memento from Blue Island's present.
20th Annual Cavalcade of Pride Dinner
• Saturday, September 18, 2010
• Invitation only
• For more information, visit blueisland.org/cavalcade-of-pride/
• See past winners at blueisland.org/cavalcade-of-pride-past-winners/
For the past 20 years, Blue Island area residents and visitors have voted for beautification efforts that deserve recognition. Winners will be celebrated at the 20th Cavalcade of Pride Dinner. This year's dinner will honor past and present Blue Island Historic Preservation Commissioners. Speakers to include leaders from the Commission, The Forum newspaper, and the Blue Island Historical Society.
Blue Island Historical Society (BIHS) 27th House Walk Tour
• Sunday, September 19, 2010
• Noon to 4:00 p.m.
• Tours begin at BIHS/Albee House, 13018 Maple Avenue
• Tickets are $15 in advance, $20 at the door
• For reservations call 708-371-8546; for more information visit Blueislandhistoricalsociety.com
Residents and visitors will enjoy a unique opportunity to walk through five of the City's finest historic homes. Advance reservations recommended.
"Blue Island residents know that this is a great destination for visitors," Peloquin said. "We want everyone in the larger community area to know it, too. We invite Chicagoans and suburbanites to 'think outside the loop' and come to Blue Island. Visitors will discover what a welcoming city Blue Island is. Once you visit us, we know you'll be back."
About the City of Blue Island
Blue Island is a 4.5-square-mile city of 23,500 people that borders the Chicago communities of Morgan Park and Beverly. Settled in 1835, Blue Island is a diverse, vibrant community with small-town charm. Blue Island is ideally situated 15 miles from downtown Chicago, just a short trip on one of the more than 100 daily trains on Metra's Electric and Rock Island lines. Three interstate highways provide convenient links to nearby suburbs. Bus transportation is available throughout Blue Island and surrounding communities, and the City is bike- and pedestrian-friendly. Blue Island was designated a Preserve America Community in 2007.
Blue Island is host to a number of community celebrations throughout the year. Residents can choose to participate in activities hosted by one of the many community clubs and fraternal organizations. Local businesses and government have been active in preserving Blue Island's unique character while fostering growth in other areas. The Blue Island Plan for Economic Development, adopted in 2005, seeks to revitalize the City's economy by leveraging key strengths, such as the variety of transportation alternatives, strong industrial infrastructure, proximity to many universities and colleges, and some of the finest heathcare facilities in the region.
About the Blue Island Historic Preservation Commission
The Historic Preservation Commission (HPC) was established in 1981 and is composed of seven residents appointed by the Mayor. The HPC makes recommendations to the City Council on preservation matters, including Landmark and Historic District nominations. Sixty-seven properties have been designated local landmarks, including the Old Western Avenue Historic District. Blue Island is an Illinois Historic Preservation Agency Certified Local Government.
About The Forum
The Forum newspaper is published twice monthly by the not-for-profit Blue Island Development Corporation.
About Blue Island Historical Society
Blue Island Historical Society (BIHS) brings together people who are interested in history—and especially in the history of Blue Island. Understanding our community's past is basic to our democratic way of life, gives us a better understanding of our state and nation, and promotes a better appreciation of our American heritage. Located in the 132-year-old BIHS/Albee House at 13018 Maple Avenue, BIHS sponsors events and presentations throughout the year.
Detail: Blue Island History
Set on the southern edge of an ancient glacial ridge, Blue Island was settled in 1835, making it one of the oldest communities in Cook County. In 1834, the Chicago Democrat observed "the ridge, when viewed from a distance, appears standing in an azure mist of vapor, hence the appellation, Blue Island." Norman and Julia Rexford are celebrated as the first permanent residents. Their hotel, the Blue Island House, served travelers along the historic Vincennes Trail, which connected the settlement to Fort Dearborn in Chicago. Blue Island grew rapidly as the Calumet feeder canal opened in 1848. The first rail line—the Rock Island—was soon to follow in 1852. The Illinois Central arrived in 1892. These tracks, now operated by Metra, continue to serve Blue Island's residents and visitors, as does the 1868 depot built by the Rock Island Railroad.
Germans were the first of the many waves of immigrants to find a new home in Blue Island. Their influence was marked by the four breweries that operated here beginning in the 1850s. Clay left by the glacial lake bed made Blue Island the brick making capital of the world in the late 1800s. Blue Island's early twentieth century history was dominated by railroading and heavy industry. Our businesses and manufacturers have exported a wide variety of products that have included beer, brooms, cigars, dental equipment, produce, condiments, and railroad cars.
The famed nineteenth century historian of Chicago, Alfred Andreas, described Blue Island as "among the prettiest little suburban towns in the West." Today, Blue Island's charms continue to be discovered. With its tree-lined streets and historic architecture, the City has an air of permanence that accompanies its casual, small town appeal.
For further information contact:

Bill Fahrenwald

James Street Associates
708-371-0110 Ext. 1-#
bfahrenwald@jamesstreetassoc.com
####