Blue Island Arts Alliance Hosts "Hooray for Hollywood"
FOR IMMEDIATE RELEASE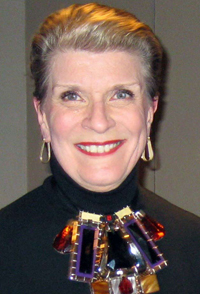 Former Saks Director Shares an Insider's Look at Fashion in Film
BLUE ISLAND, IL.—Jan. 29, 2013 (James Street Media Services)—Join the Blue Island Arts Alliance—dedicated to enlivening cultural and educational events in the City of Blue Island—for a special pre-Oscar presentation to celebrate fashion in film. The event will be held:

Sunday, Feb. 17, 2013
3:00 p.m.
Three Sisters Antique Mall
2nd Floor, 13042 Western Ave., Blue Island
"Hooray for Hollywood" will be commentated by Nena Ivon. She has presented hundreds of lectures and thousands of fashion shows through the years, prior to her retirement as Fashion and Special Events Director for Saks Fifth Avenue three years ago. In addition to being a fashion lecturer, she is also the founder and partner of TalksChic, a lifestyle speakers bureau, and adjunct faculty at Columbia College Chicago.
"Just in time for the Oscar awards, this presentation will take a closer look at fashion in film with celebrated style icon Nena Ivon," said Becky Denny, Blue Island Arts Alliance board president. "With more than 50 years in the fashion industry, Nena will share her unique perspective with our guests, including some eye-catching visuals."
The presentation will feature the glory days of film—from its beginnings through the golden age of cinema during the 1920s, 30s and 40s—when Hollywood costume design and designers became the standard for international fashion. Learn about the excitement of the era and how the studio system shaped the fashions of the time.
"Hooray for Hollywood" tickets are $10 each, and are available in advance at CARR Home-Garden-Holiday, 2357 York Street, Blue Island. Tickets will also be sold at the door on the day of the event.
About Blue Island Arts Alliance
The Blue Island Arts Alliance is a group of individuals who are passionate about the City of Blue Island, its legacy of culture and entertainment, and its potential to attract engaging events and engaged audiences. The group's mission is to educate, entertain, inspire, and connect the community through the arts. Blue Island Arts Alliance believes that "Wonderful Things Can Happen Here."
MEDIA CONTACT
Amanda Kaliski Alvarez
Blue Island Arts Alliance
708-257-7518
news.biaa@gmail.com