Art Soirees under the Blue Island Blue Sky Starting Saturday June 18, 2011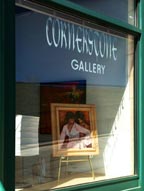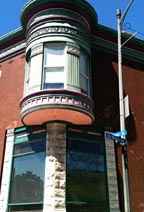 FOR IMMEDIATE RELEASE
BLUE ISLAND, IL--June 15, 2011 (James Street Media Services)--Blue Island's Cornerstone Gallery invites artists to share and discuss their work "al fresco," every other Saturday afternoon from 1:00pm to 7:00pm this summer, starting on June 18, 2011.
"We want to move art out of the gallery and into the open air," says gallery owner Paulette Stobinske. "There's plenty of display space, and we'll have tables and chairs for some creative hanging out." In case of rain, Cornerstone Gallery has ample room inside.
In a trial run on May 21st, Cornerstone attracted 10 artists and 25 art lovers to chat and enjoy some wine and tasty treats. The gallery anticipates the every-other-week soirée to extend to Saturday, August 13th. The confirmed art soirée dates are June 18, July 2, July 30 and August 13th.
As an extra one-time event, the gallery will also be open for outdoor art on Sunday, June 19th from 1:00pm to 7:00pm.
Concurrently on the 19th, there will be a blessing of the Cal-Sag Channel by Reverend Reinhart of St. Clement's Episcopal Church. The blessing will take place at 4:00pm at the Water Reclamation District Park, and participants are welcome to join the soirée at Cornerstone afterward. For more information about Heal the River, call 708-528-9862.
Cornerstone Gallery is located in the historic "Schrieber Hardware" building at 13168 Old Western Avenue, Blue Island, Illinois (north of the CalSag River). For more information, please call 708-790-4424.
Media Contact:

Martha Anderson

James Street Associates
708-371-0110 Ext. 2-#
manderson@jamesstreetassoc.com
####